Despite the important role the third sector plays, civil society actors face several constraints that weaken their prowess to pursue their mandates as agents of national development and democracy.
Some of these challenges, include lack of access to affordable technology, cybersecurity challenges, dwindling donor funding, inflexible grant agreements, and reporting mechanisms.
Others include weaknesses in networking and coordination within civil society, weakening institutions due to the lack of investment in strengthening the institutions and not just supporting project delivery, and a marginalisation of civil society within the policy space.
On Wednesday 16 November 2022, The West Africa Civil Society Institute (WACSI) organised the Launch of WACSI Nigeria Node to build civil society resilience in Nigeria for the country's development and to address the proximity challenge and especially make the Institute's services readily available to organisations and civic actors that may not have the means to engage effectively online.
The launch of WACSI Node Nigeria was complemented with a Nonprofit Tech Event which offered a platform to discuss emerging technology trends, opportunities, and challenges for nonprofit organisations. It also helped to present special technology offers for nonprofit organisations and create the space for connecting and strengthening partnerships between the nonprofit community, foundations, international development institutions and corporate partners.
More than 200 civil society actors and development experts, including dignitaries from the ECOWAS and International Non-Governmental Organisations attended the launch and the nonprofit tech event. The event was also live streamed on the institute Facebook page.
Goal
The overall goal of the WACSI Node Nigeria launch and the Nonprofit Tech Event is to respond to the high demand for WACSI's services and to offer a space for stakeholders within the tech space and development sector to convene and explore opportunities for partnership and engagement to build nonprofits' resilience and maximise social impact, leveraging technology.
Launch of WACSI Node Nigeria
On Wednesday, November 16th, the Institute launched its node in Nigeria's capital, Abuja, the home of ECOWAS, which will enhance the longstanding relationship between the two institutions.
The programme started with a welcome remark from the Executive Director of the Institute, Nana Afadzinu, who underscored the importance of a buoyant civil society in the affairs of the Africa's most populous country, especially at a time when the country is preparing to go to the polls in 2023. She noted that "Nigeria's position in Africa's geo-politics cannot be underestimated, and a strong civil society in Nigeria bodes well not only for Nigeria but for West Africa and indeed the continent". Therefore, WACSI's node in Nigeria will help address some of these challenges facing CSOs by connecting them to the Institute's capacity strengthening trainings, mentoring and coaching offerings.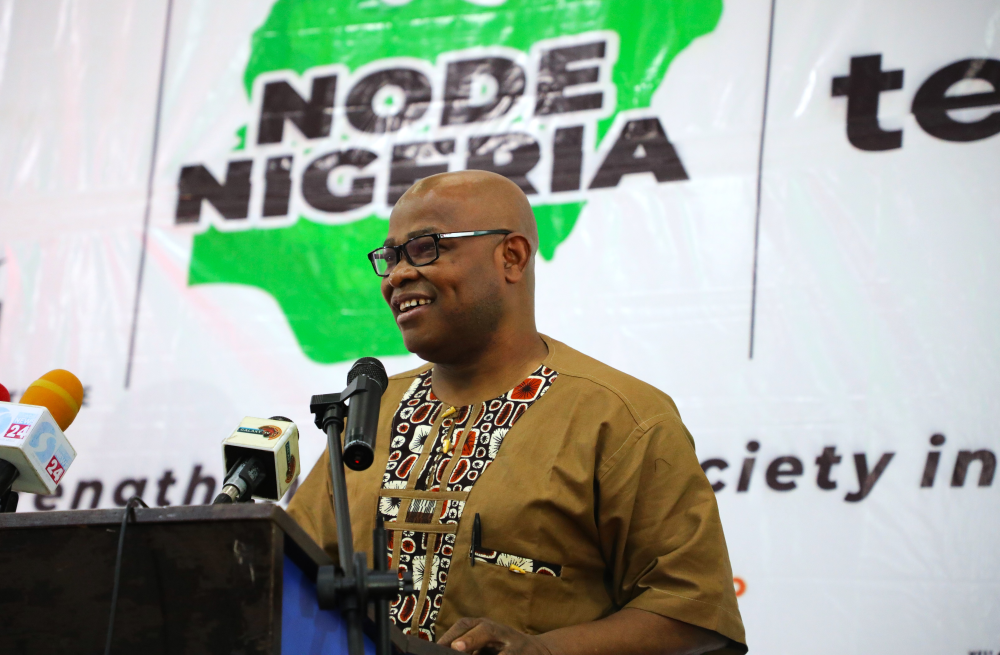 Part of the opening remarks, Professor Adebayo Olukoshi, Wits School of Governance researcher on his part, charged Nigerian civil society to take advantage of the physical presence of the Institute and work towards improving the democratic credentials of the country. He admonished civil society actors in the West African country to rise above threats to democracy. Addressing the event on the impact of digital transformation on civil society, Charles Abani, the United Nations' Resident Coordinator for Ghana, called on civic actors to use technology to forge social cohesion instead of using it to promote hate speech and division, especially during the times of the elections. The launch of a liaison office in Nigeria marks a great milestone for the Institute, which also forms part of its strategy to effectively respond to the evolving needs of civil society in West Africa. To showcase the different actions of the institutes, a documentary with feedback and testimonies from the institute partners was projected.
Nonprofit Tech Event
The nonprofit tech event programme included panel discussions, lightning talks on educational content and an exhibition.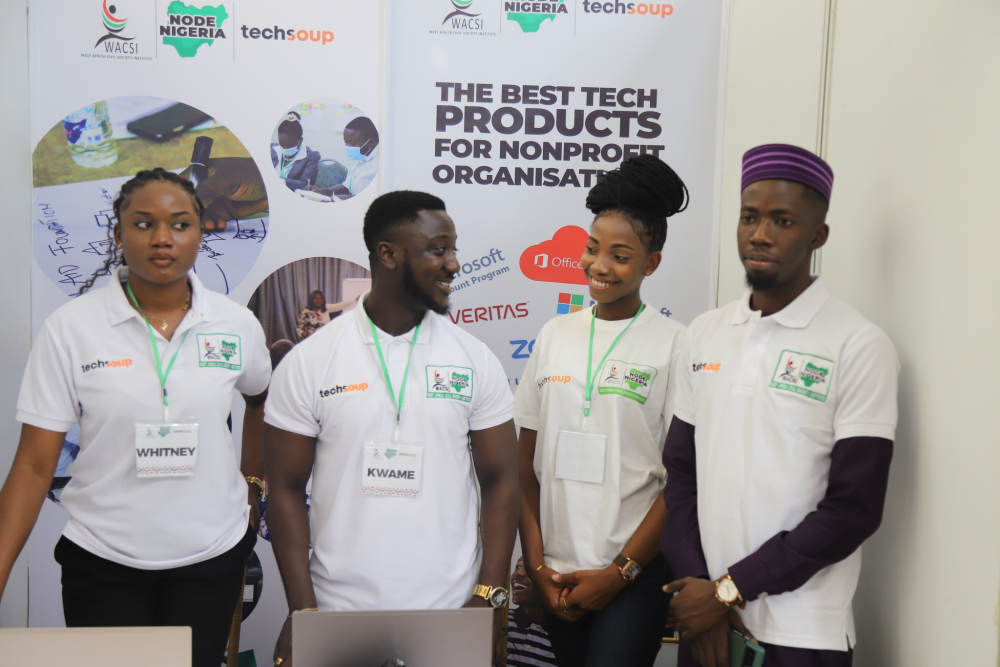 The panel discussions were composed of discussions around varying disruptive technologies of Tech Soup-Recipe for Nonprofit Organisations and Fourth Industrial revolution, opportunities and challenges for non-profit.
The panelists shared insights into contemporary technological disruptions, discussing how tomorrow's market will be staggeringly different.
Panelists for the session on Tech Soup-Recipe for Nonprofit Organisations included: Caroline Burrage, Director of Partnerships and Development, Techsoup; Melvin Chibole, Managing Director, Techsoup Africa; Nana Asantewa Afadzinu, Executive Director, WACSI and Franck Sombo, Tech Lead and Head of Monitoring, Evaluation and Learning, WACSI. During the session, panelists explained the importance and role that technology plays in nonprofit organisations' growth and shared TechSoup' vision and strategic orientation for supporting civil society transformation through technology as well as the top priorities of TechSoup in the short to medium term in supporting this drive. Other highlights included how TechSoup Africa interfaces with partners at global and continental levels to support the expansion of the TechSoup donation programme and reach to civil society organisations on the continent.
The discussion also covered the importance of the TechSoup donation programme in West Africa and how WACSI's partnership with TechSoup has helped to expand the institute capacity strengthening offering through technology. She highlighted how the programme will be of benefit for CSOs in Nigeria through the WACSI Node.
In conclusion, a vibrant message was sent to all CSOs in Nigeria to leverage on WACSI's physical presence in Nigeria to benefit from the programme and take advantage of the products and services offered to improve their work and achieve their goals.
The second panel discussion on the "Fourth Industrial Revolution, Opportunities and Challenges for Nonprofit Organisations" saw panelists discuss from four different perspectives.
The first perspective which is "Nonprofit digital literacy in an Era of Big Data and Cloud Computing" was presented by Olufemi Muraino, Executive Director, Inlaks.
Olufemi explained that digital literacy plays a powerful role in helping people connect, learn, engage and create opportunities. Technology has an important impact in facilitating information gathering using surveys, interviews or questionnaires through data automation and easy ways for monitoring dashboards from data collected. Among the cloud computing benefits mentioned by the speaker, we can refer to the use of cloud computing that allows NGOs break barriers and reduces physical constraints in sharing information.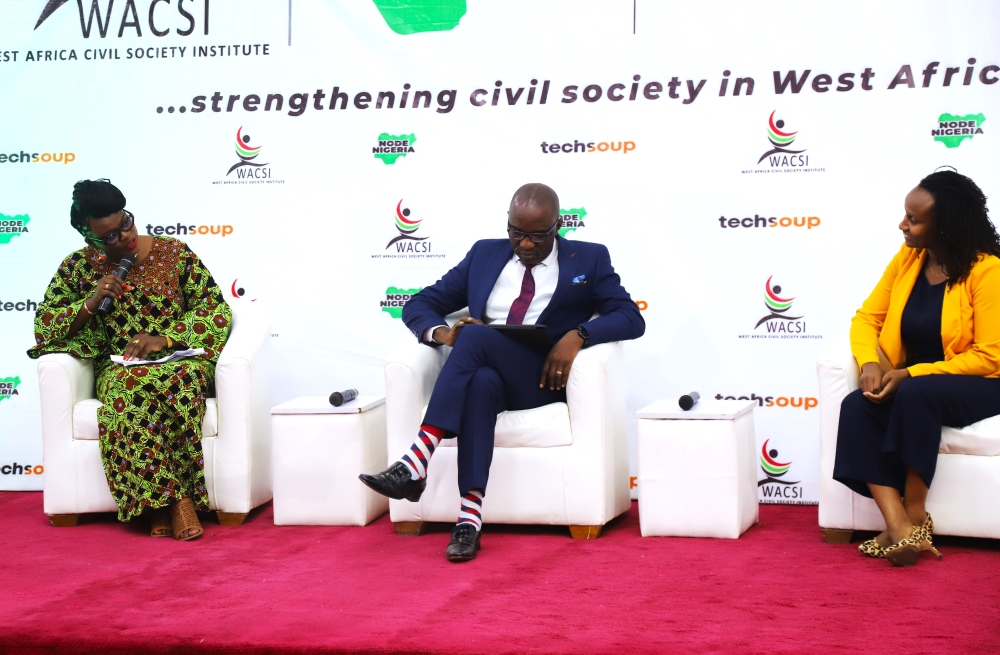 The second perspective presented by Wanjiku Jean Munyaka on "Scaling social impact leveraging Machine Learning and Artificial Intelligence".
Wanjiku Jean Munyaka, the Partner Development Manager in Microsoft's Tech for Social Impact team for Africa shared very insightful views on Scaling social impact leveraging Machine Learning and Artificial Intelligence. She took the opportunity to explain Microsoft data and advanced analytics solutions process. She also emphasised on the difference between Artificial Intelligence (AI) and Machine Learning (ML) and how they are connected. She mentioned that while AI and machine learning are very closely connected, they're not the same. Machine learning is considered a subset of AI. Some of the benefits of ML shared by Wanjiku is its ability to increase operational efficiency and accelerate decision making. CSOs could apply AI and ML in programme planning and impact measurement, process Automation and improve stakeholder engagement.
The third perspective, presented by Ediomi Udoh was on "Blockchain Technology for Nonprofit Organisations".
As part of the discussion, Ediomi Udoh, a Serial Entrepreneur, shared insight on Blockchain Technology for nonprofits. He shared that a blockchain is essentially a digital ledger of transaction that is duplicated and distributed across an entire network of computer systems on the blockchain. He highlighted the areas of impact of a blockchain such as giving chain transparency, mining for charity etc. There are many steps to its adoption. Among the ones he mentioned, we have education, networking, testing and implementation to increase trustworthiness, reduce cost and increased efficiency.
The final perspective on "Digital Security and Safety Concerns" was presented by Samaila Atsen Bako.
As we can not discuss technology without touching digital security and safety, Samaila Atsen Bako, a Cybersecurity Professional highlighted its Digital Security and Safety Concerns. He mentioned that digital work has been the new normal since the breakout of the Covid-19. It's important to take into consideration information security through confidentiality and integrity. He elaborated on the key components of digital security and example of how CSOs digital safety could be breached and ways to avoid that.
The four (4) speakers captured the participants' attention who were eager to engage and participate in the session by asking questions and sharing their experiences as well.
The panel discussions were followed by lightning talk sessions which comprised of a Five (5)-minutes engagement from three (3) different speakers on educational contents and helpful nonprofit tips on given tech products or applications. The topics included Educational Nonprofit Technology Tips, Assessing your Organisation's Digital Capacity and Google Workspace.
The entire event also featured exhibitions which complemented the sessions and provided participants with the opportunity to stay abreast of the latest progress in technology about CSOs activities.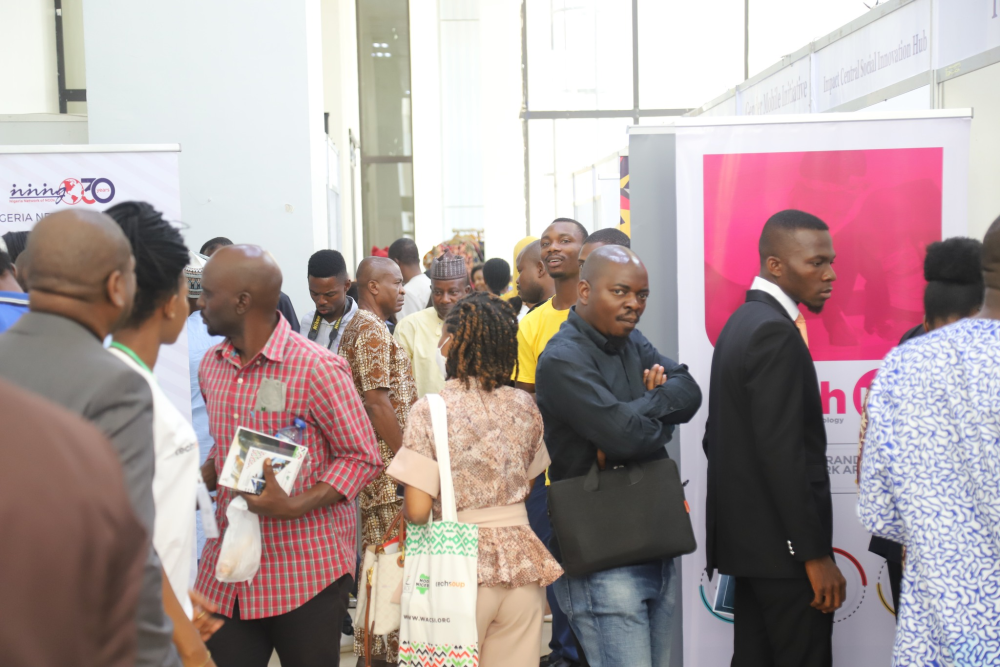 The exhibition began from the beginning of the event and time was dedicated in the agenda for participants to visit the stands. Participants and exhibitors had the opportunity to network and create or strengthen their partnerships.
Visit the WACSI website to learn more about our current initiatives.