A difficult path: Challenges of the Facebook platform
Based on the research of Statista published in January 2023, Facebook has 6.9 million users from Hungary. 1.3 million people are from the age group of 35-55 years old, and the majority of users are between 25 and 35 years old.
Frances Haugen, one of the product managers of Facebook highlights that since 2019, the younger age groups are less present on Facebook by 13% which forecasts a trend of up to 45% decrease of the presence in the next two years. The two major rivals Instagram and TikTok fundamentally changing the activity of social media usage of different age groups, which has an impact on the execution of any complex marketing strategy because, to identify the right groups to target is heavily based on age groups.
Important to keep an eye on the changes of the legal environment around Facebook, and to know about them along execution of a marketing strategy which is challenging for marketing professionals and non-profit organisations.
As an example, here is the option of deactivation of cookies for following users in the European region. This makes more difficult to measure the effectiveness of marketing campaigns started from Meta Business Suite, because users can choose not to be followed. As a result of this and also because of iOS data protection system, the amount of data can be collected is less, making it more difficult to optimize marketing campaigns.
How Facebook can still be useful for non-profit organisations?
The Adjukössze.hu is Hungary's unique charity fundraising website. This platform offers a wide range of fundraising opportunities for organisations on a transparent way and on a professional and international level along with support. Their services are to provide a platform and professional mentorship. One of the most interesting niches about their activity of reaching their ever-changing targeted audience is that they are present on two platforms at the same time, Facebook and Linkedin.
To maximise the reach of the message of campaigns, they use paid target advertisements too. It is key, that besides they present the charity organisations in their Facebook activity they effectively highlight their own services as well. What vision supported Adjukössze.hu to achieve a consistent and forecastable presence?
Adapting inspirational international studies to the process of creating the local written communication.
Philanthropy requires the understanding of the importance of need and the need of support within the society. It is challenging to phrase our message of asking for this support on social media. International studies which based on interdisciplinary researches and carried out in countries where charity activity is higher in the society than in Hungary proves to be helpful.
There are many country specific difficulties result in making the communication of the non-profit segment more difficult such as digital or political environment, these studies supply inspiration and highlight additional practices which can be implemented into the local marketing strategy.
Applying a research-based approach is a useful skill to gain for people working in the non-profit sector. As a start. Google Scholar helps to search for scientific studies. By typing in keywords to the search bar it gives access to hundreds of researches, scientific articles and some of them are free to access.
For example, when delivering the message of asking for support from the audience, it is useful to include what are the benefits for the supporter after such an activity. The feeling of socialising and belonging to a group along with the communication of joint support can activate regular supporters too.
High level of transparency and credibility are must-haves in Hungary for supporters. A charity organisation can use this well to build their branding and reputation successfully by including regular communication of its milestones and achievements into its social media strategy. Besides the visible results of the activity of donating, we can show the mental and spiritual benefits to our followers like the below example:
"Why is it good for you when you support a charity? 🫶
Warm your heart by supporting cases which are important to you. On Adjukössze.hu you can find the right charity which helps you to do something for the people in need either if it is healthcare, animal welfare or education. You can track your donation from the first click to destination and follow how you made the life of people better. Don't hold yourself back from sharing your experience of donating. Share it with others in order to inspire them and show the benefits of donating. 🫂
Would you like to know more about donating? Click here⬇️
https://adjukossze.hu/upload/adnimeno-tippek.pdf
What fundraising projects are going on on our platform now? Take a look around:
https://adjukossze.hu/kereses/kozossegi/hamarosan-veget-er/
Adjukössze. With you. Together."
Visual content, KPIs?
There are many aspects to be aware of when it comes to visual content creation. One is people. Stock pictures can be used but carefully and in case of our project is focusing on raising funds for disabled people, we must do that with keeping dignity in mind. This contributes towards credibility and reliability as well.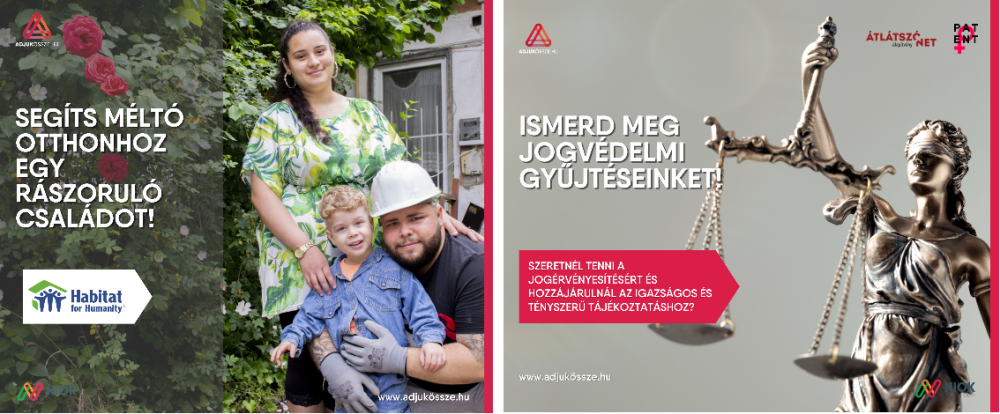 One of the key pillars of marketing is to build brand loyalty. To be successful, we need to make sure our brand's appearance, logo, and slogan are easy to recognise and to remember.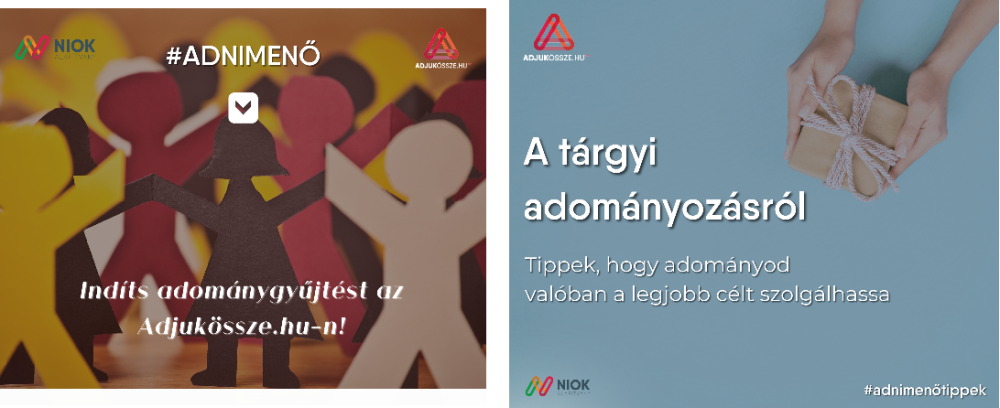 It is not advised to use a lot of written content on visual content. The harmony or combination of visual content repetitively used, works well around one topic or message. At Adjukössze.hu this is a collection of fundraising projects focused on a single area.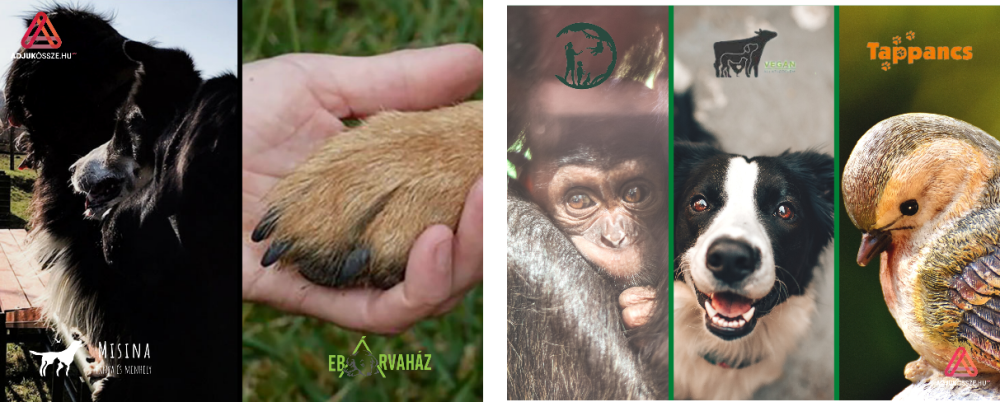 Facebook advertisements – Fine tuning of the written and visual content
Like any other profit oriented company, non-profit organisations must target a variety of audiences which can be different from each other. In case of using pixel-following or any other type of tracking methods, we can identify target audiences more precisely on Facebook. This activity enhances the results of campaigns. Our advertisement can be a boosted advert, which is usually for a shorter time period and focusing on the content on our Facebook page. With this method we can highlight target audience specific content, supporting reputation and growth.
From the Meta Business Suite, we can launch a series of advertisements within one campaign. This is ideal in case of having a 3 months campaign with a clear goal or having a product for sale. Besides setting the campaign's goal and target audience, the written and visual content planning plays an important part as well. Successful written content is easy to read, to understand and short. This approach is advisable when it comes to visual content creation especially, because brand recognition and awareness are two key goals in any marketing activity.
So why it is beneficial for a non-profit organisation in Hungary to be present on Facebook?
Reach targeted audience by age groups

To create customized target groups by using built-in marketing tools

Real-time monitoring of the effects of our written and visual content on followers

Opportunity to gain loyal supporters for our organisation

Achieve the multi-platform marketing visibility and presence which is crucial in our times.
In summary, Facebook is a good platform for non-profit organisations to use as a platform for marketing communication in the field of fundraising, brand awareness, recognition and reputation building by the current practices and relatively stable user base.
Bibliography:
Bekkers, R., & Wiepking, P. (2011). A literature review of empirical studies of philanthropy: Eight mechanisms that drive charitable giving. Nonprofit and voluntary sector quarterly, 40(5), 924-973.

Number of Facebook users in Hungary 2018-2023: Published by Flora Medve, Feb 6, 2023. https://www.statista.com/statistics/1029770/facebook-users-hungary/

Alex Heath (2021). Facebook's lost generation. The world's largest social network is internally grappling with an existential crisis: an aging user base. The Verge Magazine. https://www.theverge.com/22743744/facebook-teen-usage-decline-frances-haugen-leaks
Rebeka Al-Dulaimi is a Digital Marketing Executive at BeBrand Agency.