Another school year came to an end. With a number of vaccinated individuals growing and restrictions being lifted by countries with the most popular summer destinations, you are probably trying to figure out the best way to spend the upcoming holidays with your kid(s). I bet that you already have some plans, be it sunbathing and lazing at the seaside or hiking all day long in the mountains. Regardless of where you're actually going to end up this summer, there is no doubt that one day your teenager will eventually say: "I am so bored…". Right after you roll your eyes, take a look at this list of 3 online games that help you develop your media literacy skills. They educate, but they also have another superpower: they are not boring at all! Use this opportunity to teach media literacy to your kid. Or relax and let these apps do it for you.
1. Bad News
Bad News is a browser game created by DROG, a Dutch organization that provides public-private solutions to proactively counter disinformation, in collaboration with researchers at Cambridge University in the United Kingdom. According to its designers, the game develops resistance to disinformation by putting players in the position of the creator of false content, giving them a unique opportunity to learn about various tactics and methods used to spread misleading narratives.
The rules are pretty simple: players are shown a short text or image and react to it in a variety of ways. The game's narrator encourages, for example, to post "a frustrated tweet" or to create a fake profile on the social media platform. The player's score is measured in 'followers' and 'credibility'. The aim of the game is to gather as many followers as possible without losing too much credibility.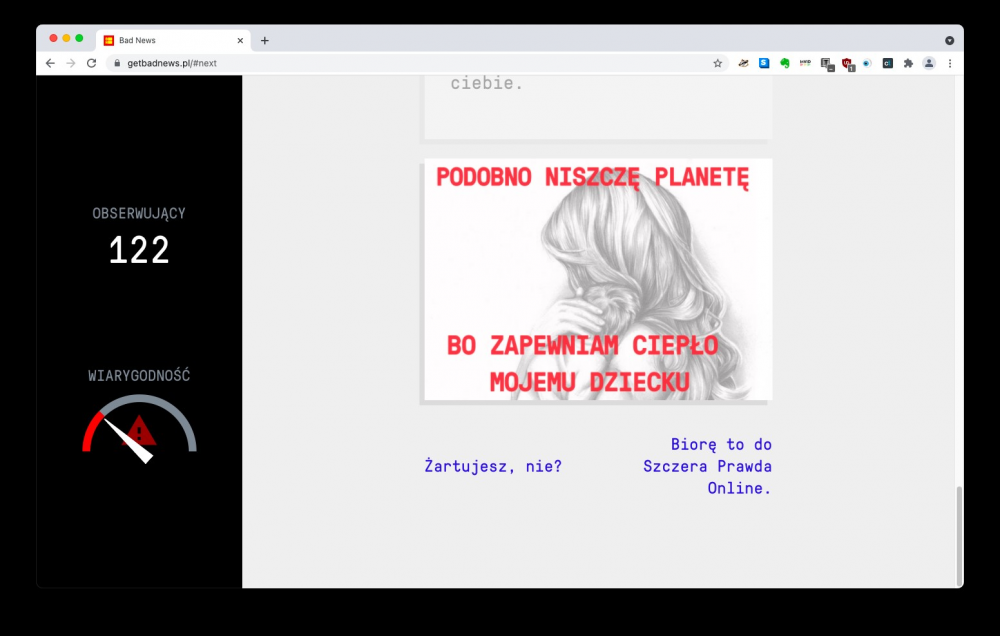 2. Informable
https://informable.newslit.org/
Informable was designed by the News Literacy Project, a US-based non-profit organization that provides programs and resources for educators and the public to teach, learn and share media literacy skills. In contrary to Bad News, it requires downloading an app from the App Store or Google Play, but it's really worth it. Simplicity and beautiful illustrations will appeal to the player from the very beginning.
The app is essentially a quiz with 4 different modes with 3 levels each. It allows the user to develop a variety of competencies: spotting ads, distinguishing news from opinion, detecting faulty evidence, and identifying fact-based and opinion-based statements. Each category contains a series of real-life examples of news, posts, images and videos to be correctly assigned as news or opinion, evidence-based or not, etc. You can play without logging in, however, a personal account comes with extra features such as the leaderboard that may motivate you to learn even faster!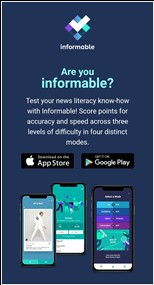 3. Fakes? No, thanks!
The third game is a brand-new product created by Demagog Association, the first Polish fact-checking organization (full disclosure: the author of this article is a board member of Demagog Association and co-creator of the game). Primarily launched in Polish, it is now available in English. The idea behind it is quite similar to Informable, but instead of developing a set of skills it is focused on the concept of "fake news".
Before the quiz starts, the player learns 3 tricks on how to spot fake news. Then, they choose one of the topics that interests them the most. Each category consists of 16 real-life examples of content published online. The task is simple: to decide if a given piece is fake or not. But it's not as easy as it seems – time is running out and you've got just 15 seconds to make a decision. Why? Because we usually spend that amount of time evaluating a post in social media feeds before we scroll down to see what's next.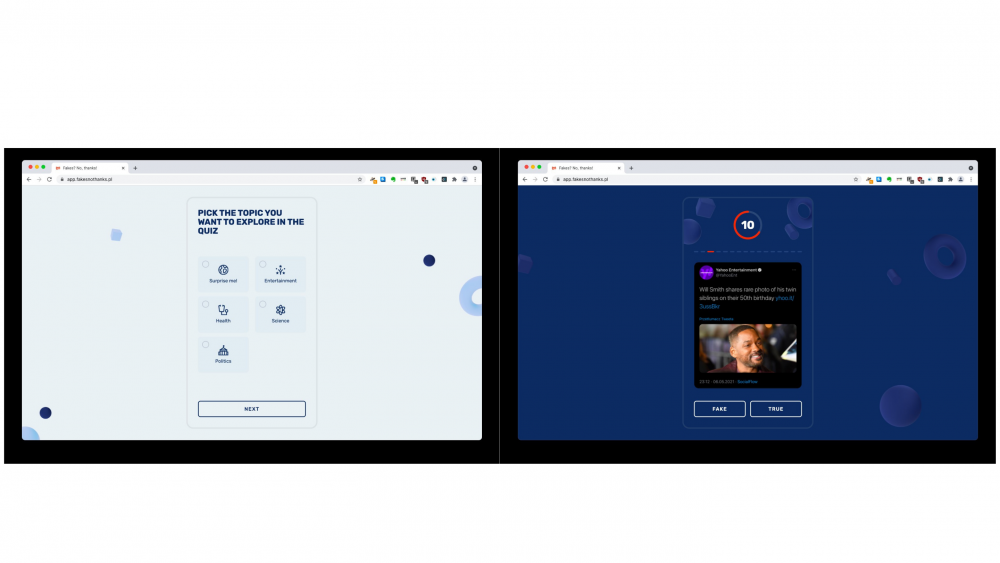 Background Illustration: Photo by NDAB Creativity from shutterstock / shutterstock license